Fantastic Feathers

Toys & Accessories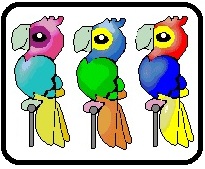 Fantastic Feathers has a range of quality handmade toys and accessories that your bird will love!
Hanging Toys

Theres many great hanging toys to choose from in a range of different sizes to cater for your feathered friends of all sizes. These toys included brightly coloured and shiny objects as well as bells, ropes and all kinds of fun things to stimulate your birds curiosity and senses.
Swings and Ladders



Our swings and ladders come in a range of different styles and sizes and are made with a variety of materials that are safe and fun for your bird. They include additions such as bright beads and rings, bells, rope and tassels for sight, sound and touch stimulation for your feathered friend.
Foraging Toys and Feeders

These fun and stimulating toys and feeders will excite your birds sence of curiosity. Our bright and decorative feeders give your bird something fun to play with with having a nibble and parrots also enjoy a challenge which is why they love foraging toys.
Hanging Perches

Available in a range of different sizes and styles, your bird will love our hanging perches. Put them in your birds avery, hang them inside or outside. Some of our hanging perches also feature feeding dishes which make them ideal for hanging in a tree out the back to attrack wild birds to your garden.
Gym Stands

Birds love our gym stands that come in a range of sizes and many different styles. They include such things as ladders, swings, rope, bells, beads and colourful rings that your feathered friend will have loads of fun with, sliding along the perch.
Standing Perches



Our standing perches range from smaller sizes to put on your table or in your birds cage or larger ones that stand on the floor. Some are made with strong and hardy oak and some with PVC. They come in a large range of styles and some include additions such as bells, beads, ladders, rope nets, swings and lots of other fun things to keep your bird busy.
We also sell bird seed mix, bells and seed cookies which your bird will love nibbling on!
Have Any of These Products Custom Made to Suit Your Requirments or if You Are Looking For a Product Not Listed Here Simply Email us. All Requests Are Welcome.